I am an Artist and Owner of the Art a la Carte Gallery, a retired Marine Ecologist and an avid Softball Player. I love the positivity of good art, a great wine, physical activity, creativity, and getting together with friends and family. Although I now live in The Villages, Florida, you can still find my artwork in our shop in Occoquan, VA. Shop originals and prints here on our gallery website and on my donnaturgeon.com website If all else fails, and you can't find what you are looking for or you want to discuss a commissioned painting, e-mail me. By the way, I'm always thrilled to see you at one of my art shows or to have someone share a photo of how my art looks on their wall.
My art is nearly always nature at its most detailed and intimate level. All my landscapes have strong elements of nature because I am a professionally trained ecologist. I seek to capture the soul of an animal, its behavior and essential habitat, especially a closeup of eyes, texture of fur, sun on a flower petal, a baby's tenderness and the softness of a bird's breast feathers.
I have been drawing in charcoal, ink, and pencils since a young child. Christmas presents from me were most often art, stitchery, or some other craft. Through the years, over 300 paintings followed in watercolor, acrylic, oil, pastel, and mixed media. I have over 150 print images and originals available for you.
Great Egret in Full Plumage, an acrylic painting on acid-free brown matboard, is a favorite of mine because of its color palette, the bird's intense gaze, and the unusual pose, like bridal finery I thought. I created the leafy "bower" to accentuate this beautiful creature.

Live in the DC Metropolitan area? Visit Art a la Carte Occoquan Gallery, VA and browse the work of our many artists. Check our online calendar to see when your favorite artist(s) will be working and perhaps attend a Featured Artist Reception with snacks and wine. Often we have giveaways, gift suggestions, artwork demonstrations, and holiday decorations. It's a happening place!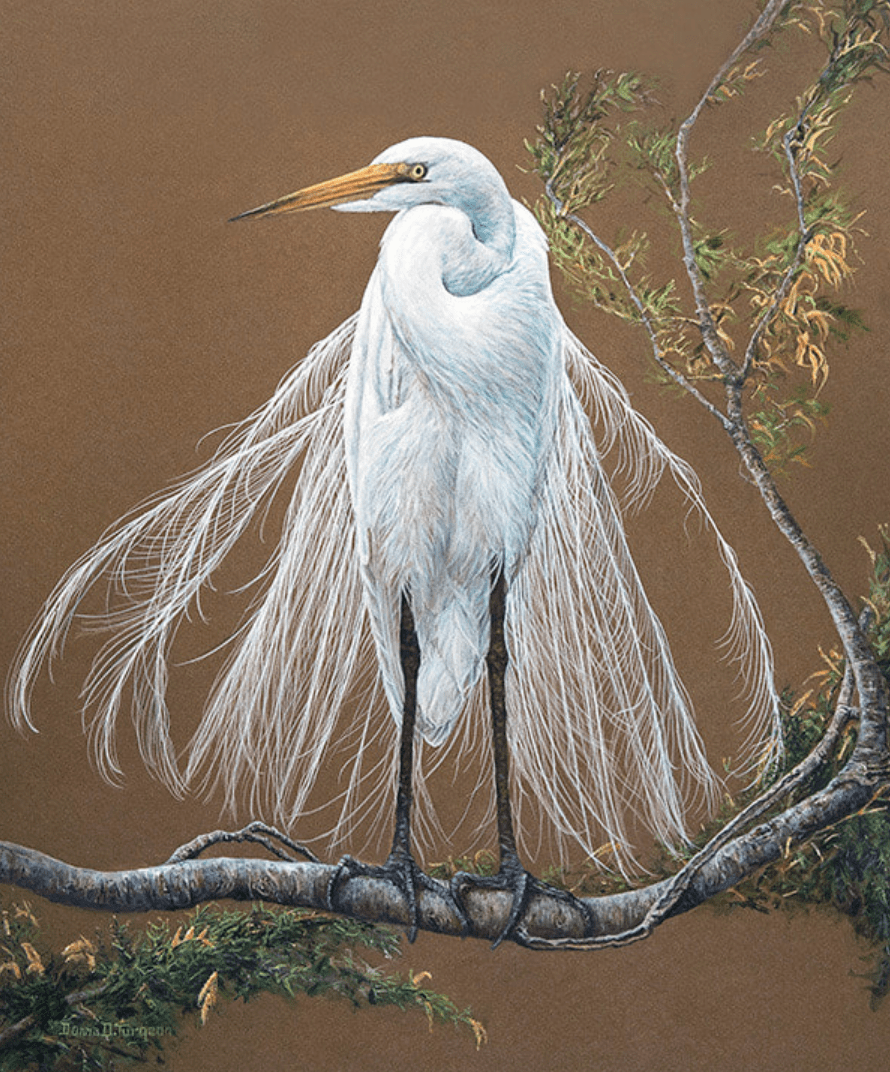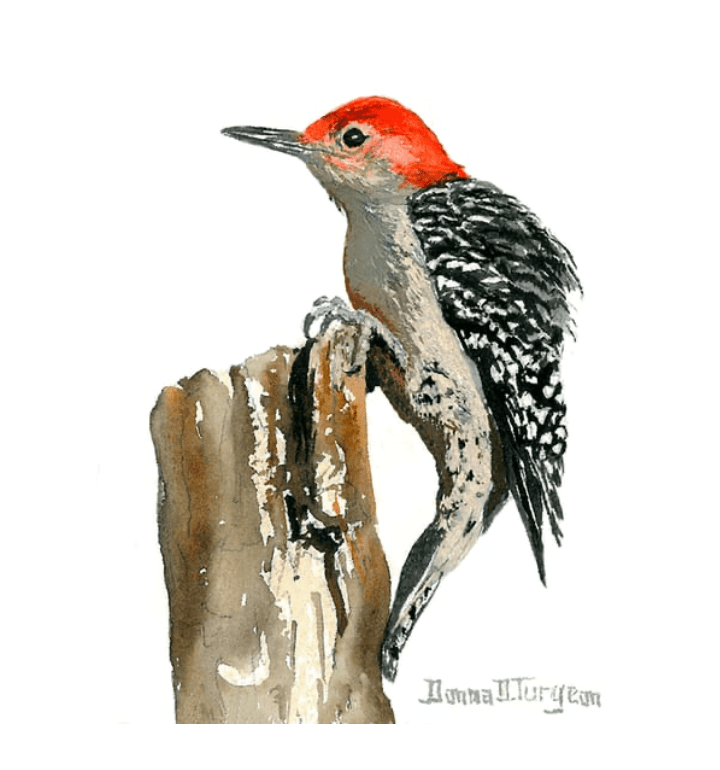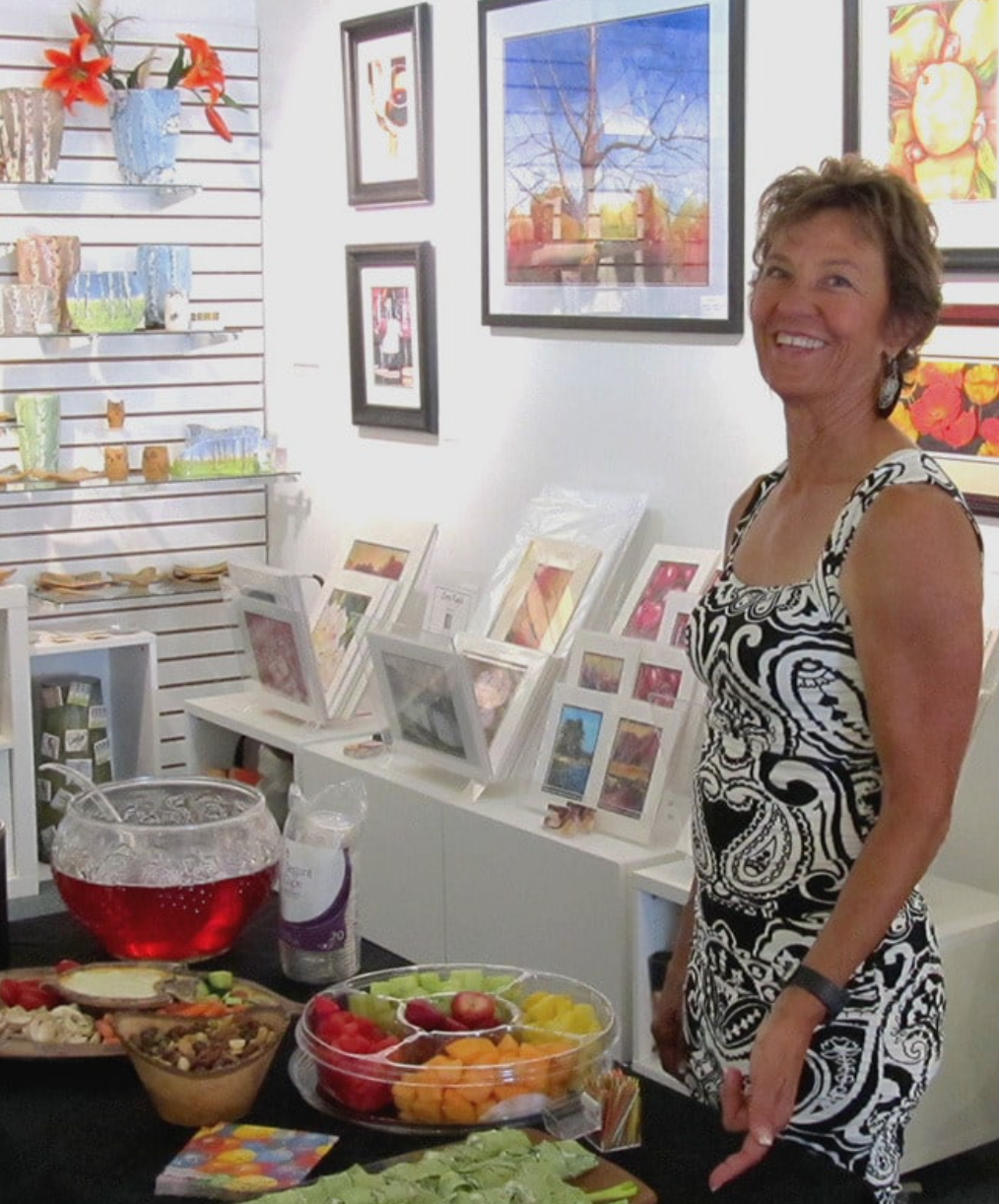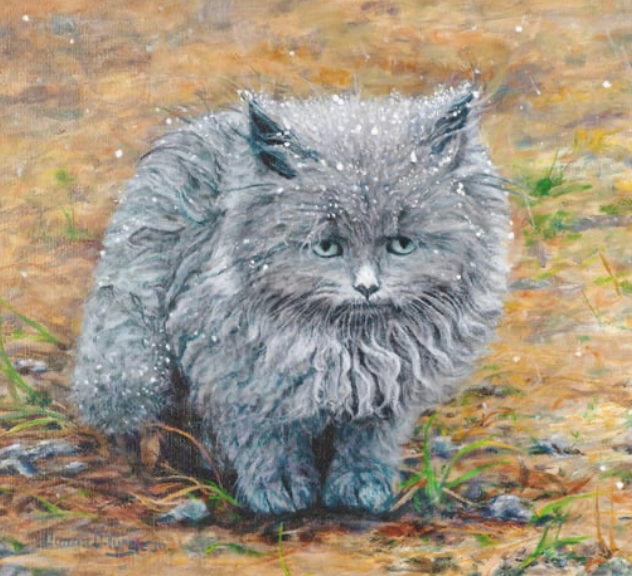 I am an Artist, a Coach, an Athlete, a Dog Mom, a Survivor.
​As an artist, I have the ability to create, push, pull and stretch the boundaries of your imagination. I am acutely aware of the significance of my surroundings, my vision and my voice. With every stroke of my brush, my intent is to paint with compassion, to create with inspiration while simultaneously freezing time. My role is to capture the darkest of hearts and the brightest of thoughts. Constantly walking that tight rope between reality and imagination.
I am also an athlete, a coach and a survivor of three open-heart surgeries by the time I was 10 years old, as well as a recent life-saving operation; all experiences which continually influence every aspect of my life.

My intention each day is to inspire, uplift and encourage others to take a step forward, to climb that mountain, to cross that line, to protect and stand up for their beliefs. There is an infinite number of possibilities in life and the only way we can reach our full potential, is to have the courage to go beyond our limitations, real or imagined.
​
We are a constant work-in-progress. . .a prelude of what is yet to come. I strive to reflect that reality on canvas.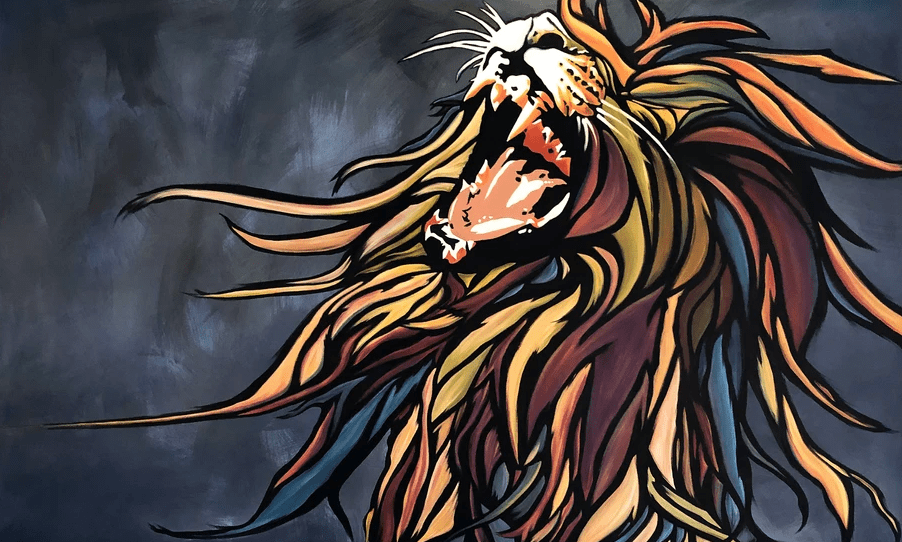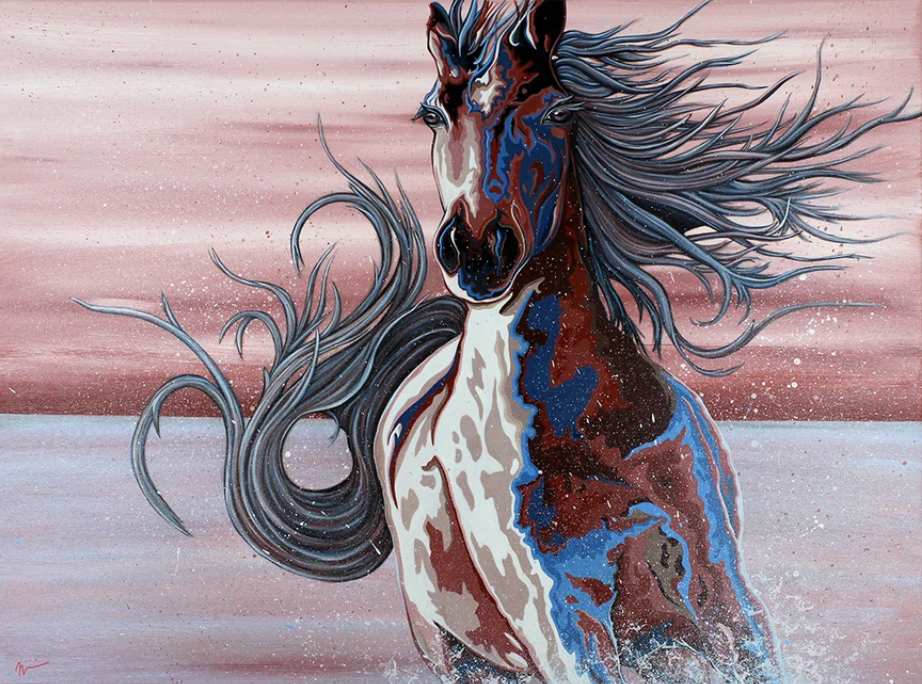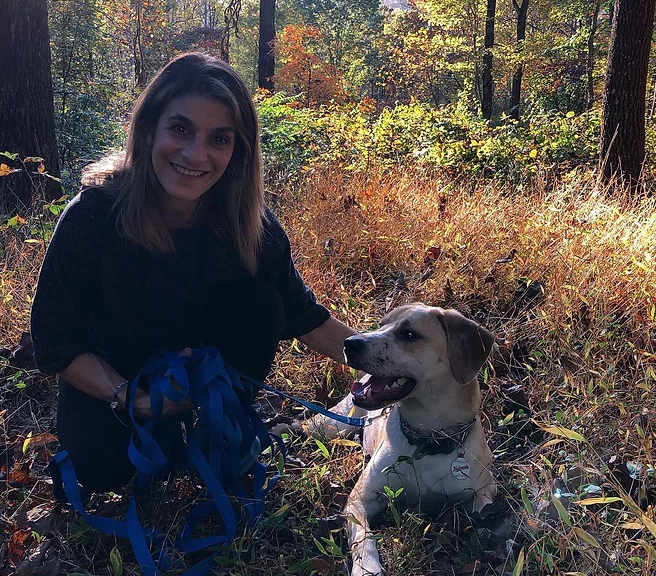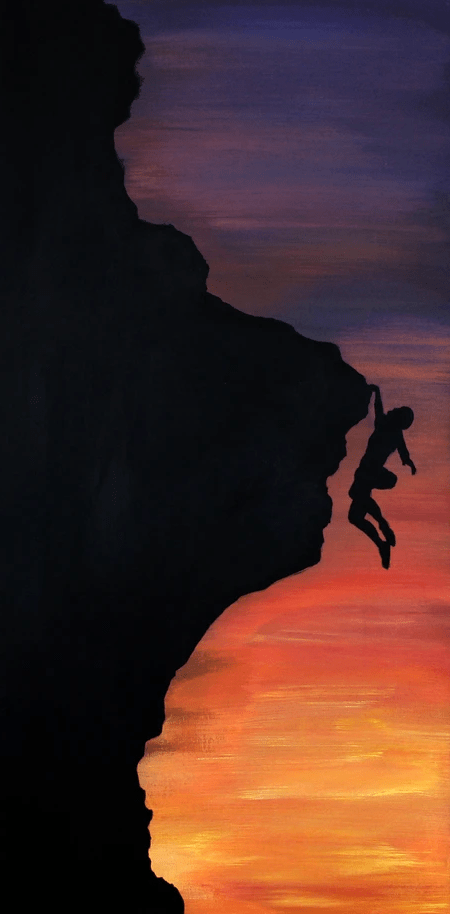 Dear Friends,
I guess I seek to paint somewhere between a child and a Hendrix solo, electric movements expressing life and death and all the colors in-between as though a paint store exploded. I prefer palette knife to a brush, it lays down thick layers, one upon another, which can then be cut through with energetic strokes creating mixtures of color and sculpted line beyond even my own intention. Parables and metaphors brought forth in paint, with flowers instead of people, mixed with stick figures and scratchings of ideas as they arise within. I have become aware that I am merely a vessel at times, and that the painting is using me to create itself. The creative experience is definitely a path of wonderment.
I was born in England in 1969 and came to the States in 1980. It's been a long and strange road filled with many of the feelings that I hope you will find expressed in these works. I have always been creative, yet I took up painting predominantly in 2014 after finding that I couldn't deal with traditional paths of life anymore.
Music and poetry have always been part of my world and I don't really see any separation between those expressions, including painting.

It used to be believed that creative people had an unseen genius that would help, inspire, and guide them in creating their art rather than the artist himself/herself being the genius therefore causing the artist to either become overwhelmed or self absorbed. Not that I am claiming genius status by any means, yet as CatBoneFace I am at one with something that is grander than myself, and when I can't...CatBoneFace can.

I hope you enjoy the CatBoneFace experience and whatever it means to you, as that is what it is all about. I would love to know what you think of my work, and I hope to get to know some of you through this showing. If you would like to view a short film of CatBoneFace painting "Antithesis," hanging here in the gallery, and a short biography, go to.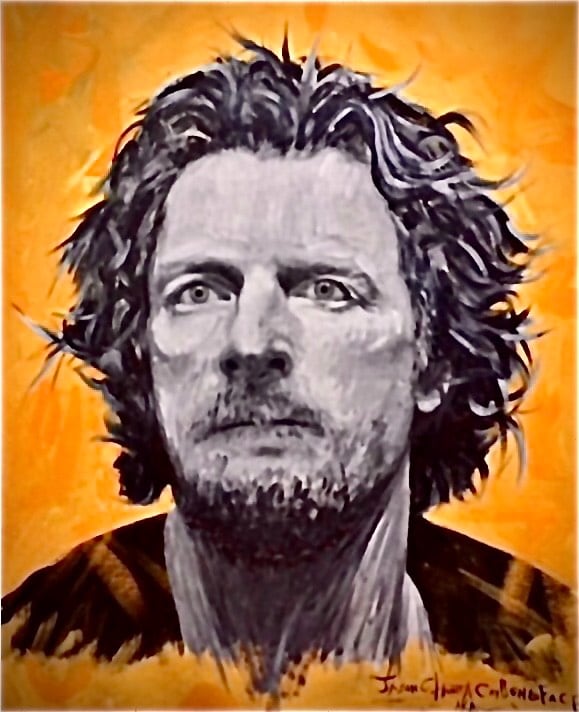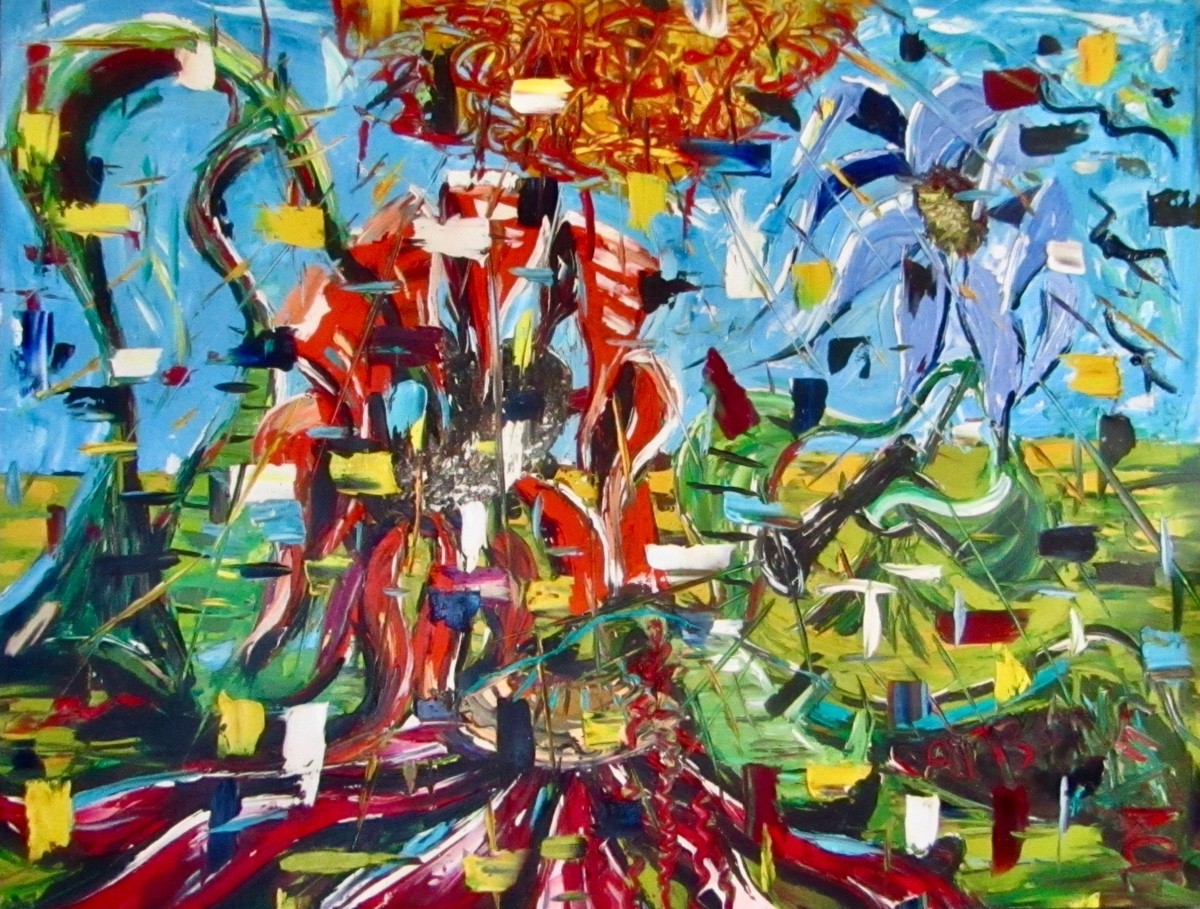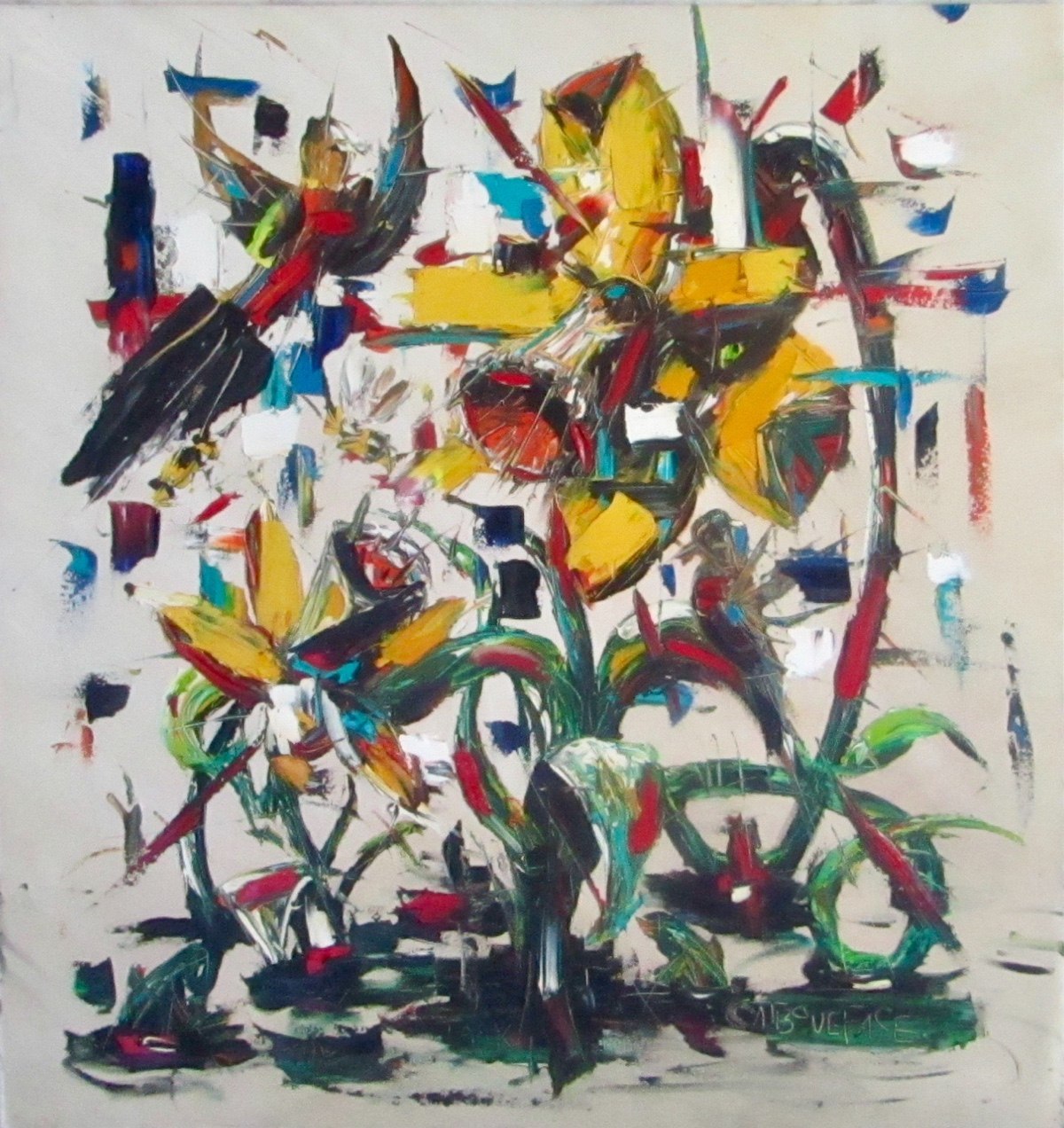 I was born and raised on Long Island, New York. I graduated from Stony Brook University with a B.A. degree in Early Infant-Elementary Education and a minor in Fine Art. After raising three great sons and having a career as an International Board Certified Lactation Consultant, I retired in 2013. Once again I picked up my paint brush!
My art goal is to capture the energy, color vibrancy and movement of contemporary works. I want to share with you my inner passion for landscapes, seascapes, floral arrangements and animals.
I'm considered an Abstract Expressionist who paints mostly with alcohol-based inks on ceramic tile and Yupo™ paper. For variety and greater impact, I might add acrylic paints and mixed media.
Come visit us at the Art a la Carte in Occoquan, VA and you might see me demonstrating inside the gallery or on the porch if the weather's nice. Sign up for one of my classes and I'll show you how to relax and be creative.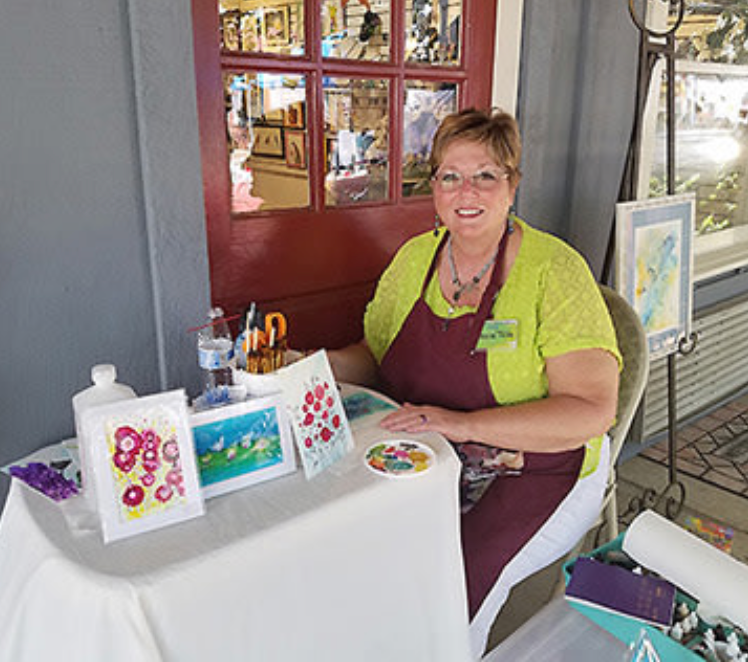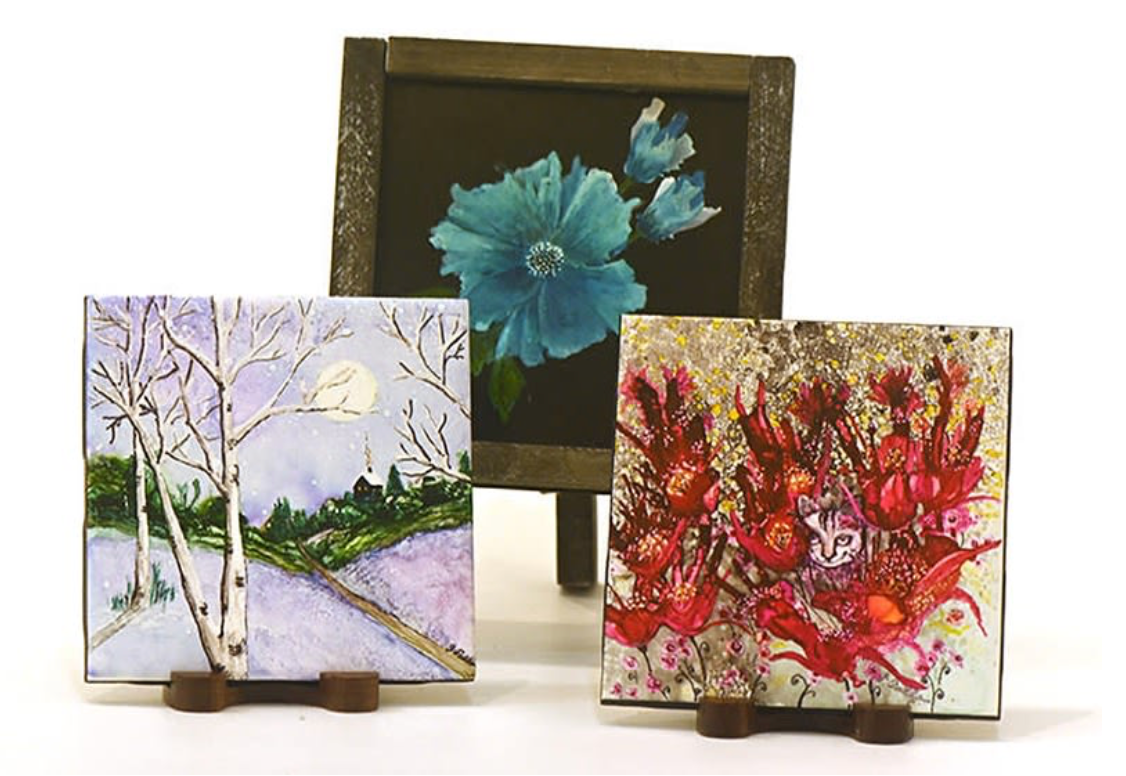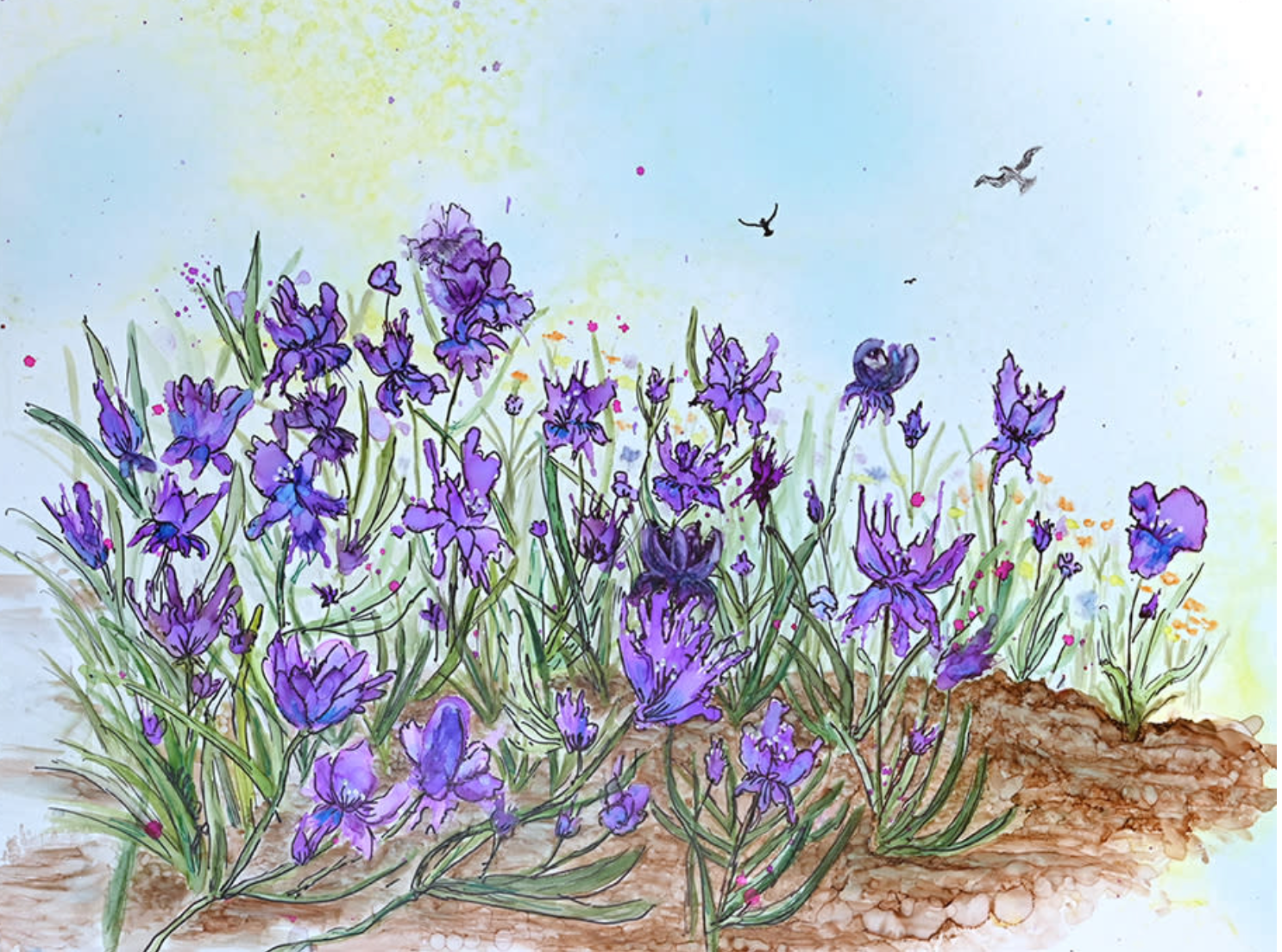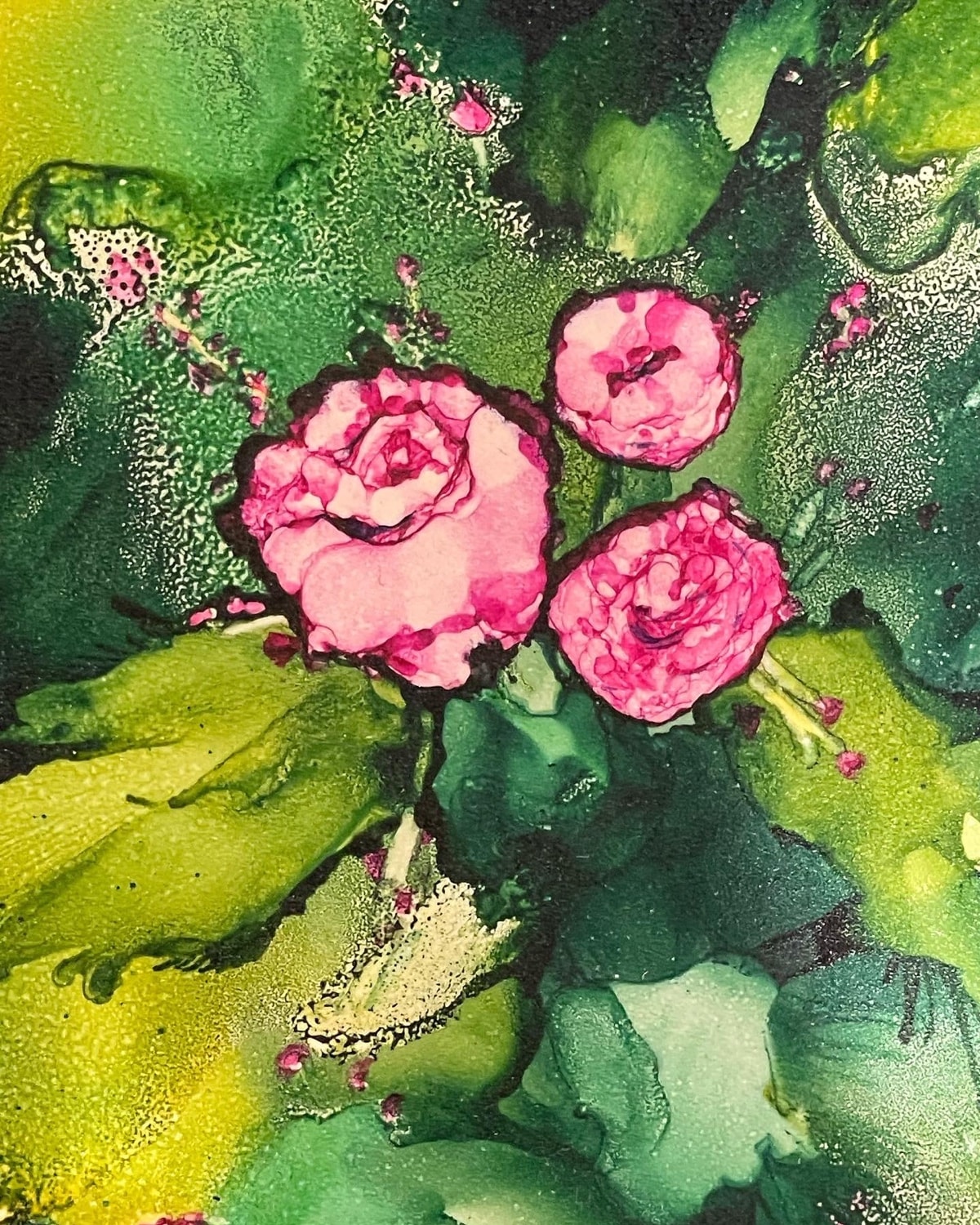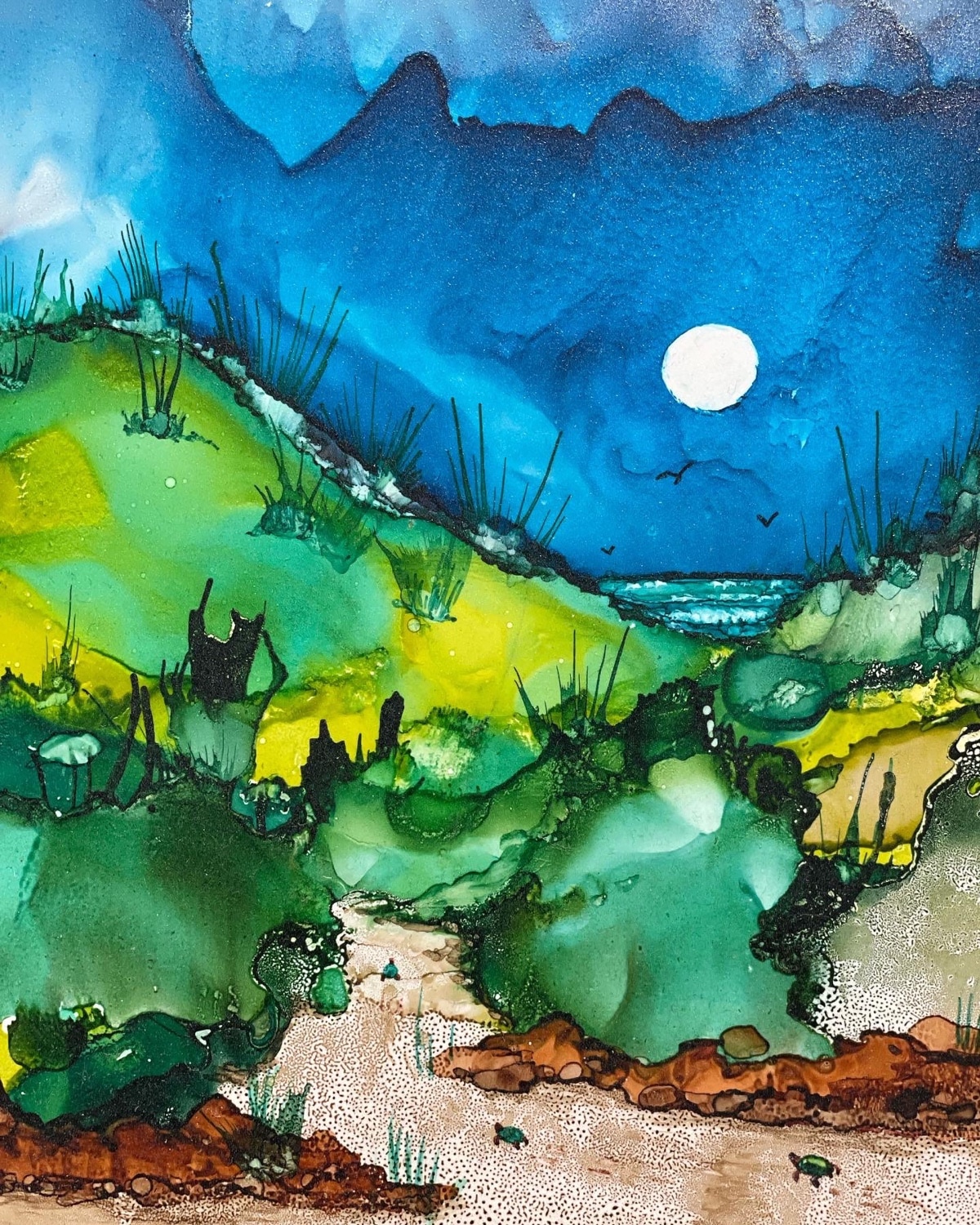 Jackie Liedl
The one and only....
Ms. Liedl hates having her picture taken and talking about herself. One of our Charter Member Artists at the Art a la Carte Gallery in Occoquan VA, Jackie serves several important and time-consuming roles. In addition to day-to-day support tasks such as ordering supplies, Jackie 1) schedules/ creates our monthly calendars for Artists on Duty (AOD), and 2) prepares monthly art sales reports for management. On top of that, she is more likely than any other artist to be the one to greet you and check out your purchases. Most AOD artists who "man the desk" work one or two days a month but not Jackie, she works six days, sometimes more, filling in when conflicts arise.
Regrettably, she doesn't trust website "cookies" so her work is only available in our Occoquan, VA gallery at 310 Mill Street. She might not tell you, but I will, in the corner of Suite B, Jackie Liedl, aka "Local Color" and "No Fixed Address", exhibits over 400 local ink scenes, alternative jewelry and her newest incarnation of Canvas Philosophy. Come visit us when you can.
P.S., Jackie says everything she knows, she learned from Korean melodrama.