Art a la Gallery, 310 Mill Street, Occoquan Historic Division, VA 22125; (703) 496-9540

ART a la Carte

Lorie Kagle and Donna Turgeon had a plan to open an art gallery in Occoquan, VA. The ART a la Carte evolved quickly from the four artists who brainstormed together to the first panel of slat wall that went up to Opening Day.

Since opening on August 1, 2010, around 25 artists have shown their hand-made, works of art seven days a week. We have always supported artists with a unique take on their medium. All gallery artists are juried by their peers. Our artwork ranges from traditional wall art (i.e., drawing, painting, printmaking, photography) to functional art (e.g., pottery, glass, wood), wearable art (jewelry, textiles) and mixed media sculptures. Come visit us soon.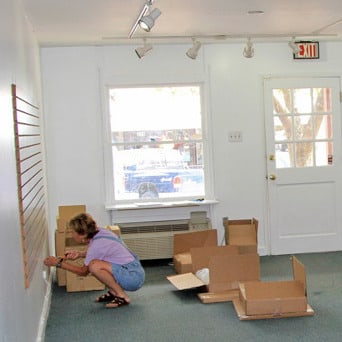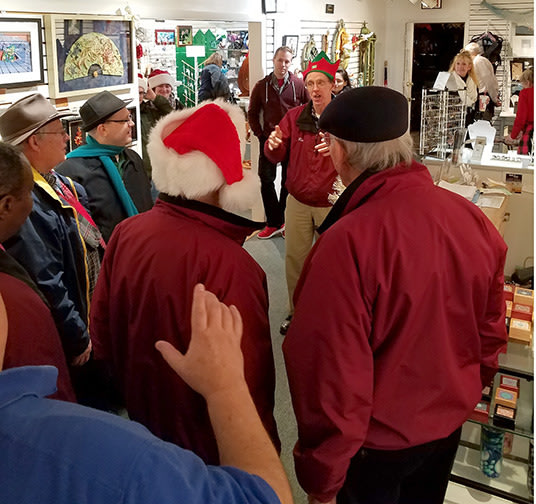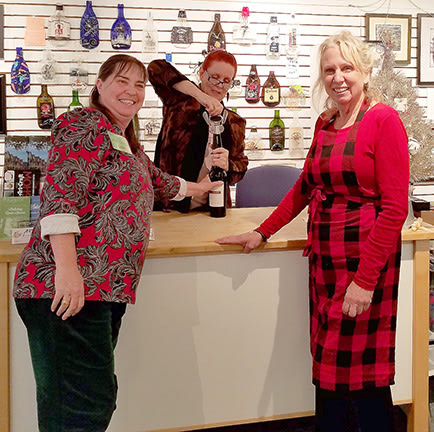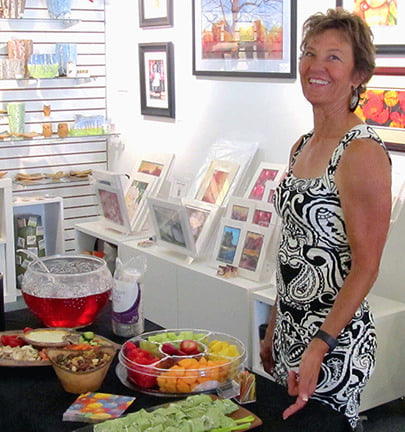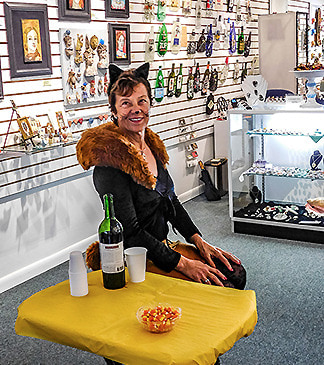 I am an Artist at and one of the Owners of the Art a la Carte Gallery, a retired Marine Ecologist, and an avid Softball Player. I love the positivity of good art, a great wine, physical activity, creativity, and getting together with friends and family. Although I now live in The Villages, Florida, you can see my artwork in our gallery in Occoquan, VA and shop originals and prints on this
website
and my personal
website
. If all else fails, and you can't find what you are looking for or you want to discuss a Commissioned painting, e-mail me at turgeondonna@gmail.com. By the way, I'm always thrilled to see you at one of my art shows or to have someone share a photo of how my art looks on their wall.
Turgeon art is nearly always nature at its most intimate and detailed. I seek to capture the soul of an animal, its behavior and essential habitat, especially a closeup of eyes, texture of fur, sun on a flower petal, a baby's tenderness, and the softness of a bird's breast feathers. I have been drawing in charcoal, ink, and pencils since a young child. Christmas presents from me were most often art, stitchery, or some other craft. Through the years, over 300 paintings followed in watercolor, acrylic, oil, pastel, and mixed media. I have over 150 print images available for you to choose.
Live in the DC Metropolitan area? Visit us at the gallery and browse the work of our artists. Check our calendar online to see when your favorite artist(s) will be working, attend his/her Featured Artist Reception. Drop by to see us when you attend one of the Town of Occoquan Arts and Craft Events. Often we have giveaways, Christmas drawings for gift cards, and serve wine at special Holiday Celebrations. By the way, the fox serving wine has a fluffy tail.
Halloween is one of my favorite Art a la Carte Gallery events!

Karen Rexrode

Life isn't about finding yourself. Life is about creating yourself. George Bernard Shaw

Artist at Art A La Carte Gallery, I manage the store, along with several other valuable artists that keep things together. I have two loves, horticulture and art and live each as fully as possible. My full time work is managing two estate gardens. My peaceful home gardens attract butterflies and wildlife.

As an artist I favor assemblage, the challenge of putting things together and making them look like they have always belonged. The current art form lets me explore in an imaginative way all of the crazy thoughts in my head. I also keep a blog at https://karenrexrode.typepad.com/.
Demonstrating my one-of-a-kind resin assemblage at the Gallery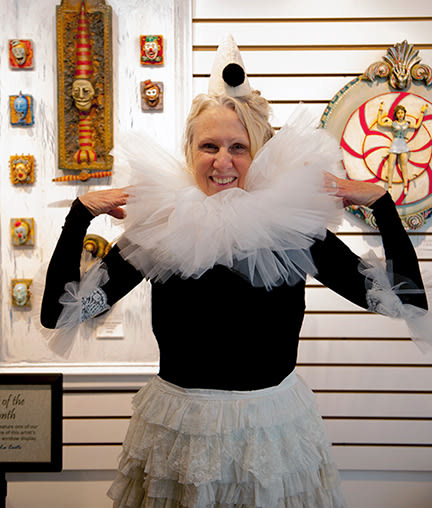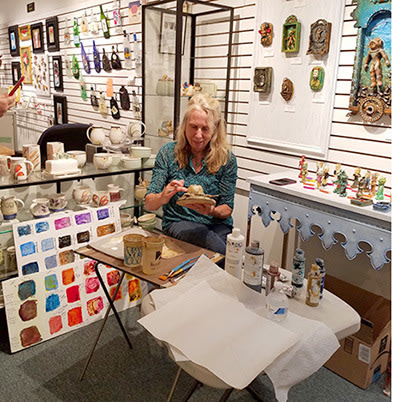 A retired banker, I am now a jeweler at the gallery and help Karen manage the shop. Once I discovered the love of rocks and gems on a mining excursion with my granddaughter, the rest (as they say) is history. My travels often include locations where rock mining is still active. At my studio, I tumble and polish gemstones to bring out their best attributes, then uniquely wrap each with silver wire. Recently, I added sea glass to my expansive inventory. Tumbled by the sea, each piece of smooth glass is one-of-a-kind. Often, you'll find me restocking my jewelry case near the reception desk. Ask and I'll be glad to help you find whatever you need.
Life is like a box of chocolates, choose wisely

Presenting THE...
Jackie Liedl

Ms. Liedle hates having her picture taken and talking about herself. One of our Charter Member Artists at the Art a la Carte Gallery in Occoquan VA, Jackie serves several important and time-consuming roles. In addition to day-to-day support tasks such as ordering supplies, Jackie 1) schedules/ creates our monthly calendars for Artists on Duty (AOD), and 2) prepares monthly art sales reports for management. On top of that, she is more likely than any other artist to be the one to greet you and check out your purchases. Most AOD artists who "man the desk" work one or two days a month but not Jackie, she works six days, sometimes more, filling in when conflicts arise.
Regrettably, she doesn't trust website "cookies" so her work is only available in our Occoquan, VA gallery at 310 Mill Street. She might not tell you, but I will, in the corner of Suite B, Jackie Liedl, aka "Local Color" and "No Fixed Address", exhibits over 400 local ink scenes, alternative jewelry and her newest incarnation of Canvas Philosophy. Come visit us when you can.

P.S., Jackie says everything she knows, she learned from Korean melodrama.

Melanie Barry

"Ergonomic and easy to grip and hold, my beaded tableware has been recognized by the National Arthritis Foundation as 'Arthritis Friendly' "
I love creating all kinds of art. In 2001, I began working with glass, crystal and natural stone beads, transforming everyday glassware and tableware into unique creations using shimmering silver wire. My first design was a set of wine glasses with built-in color beads, identifiers for easy recognition at social gatherings. Now I have 25+ different designs of glassware, tableware, and wine accessories in over 12 color combinations.
I am an Artist at the Art a la Carte gallery and an active member of the Northern Virginia Handcrafter's Guild. Often, I display my work at juried art and craft shows in Northern Virginia.

In 2002, I won the 'Best in Show Award' at the Burke Centre Autumn Festival. This led to starting my business Entertaining Designs LLC. I Founded and served as Show Chairman for the South Run RECenter Autumn Arts and Crafts Show, and I'm proud to say it's in its twelfth year.
I feel fortunate to have turned my artwork into a profession and business. I stay home with three children, work from my home studio, and volunteer in my community and church. Since I am an advocate of learning through artistic expression, I volunteered as an art assistant giving art demonstrations at local schools and youth events.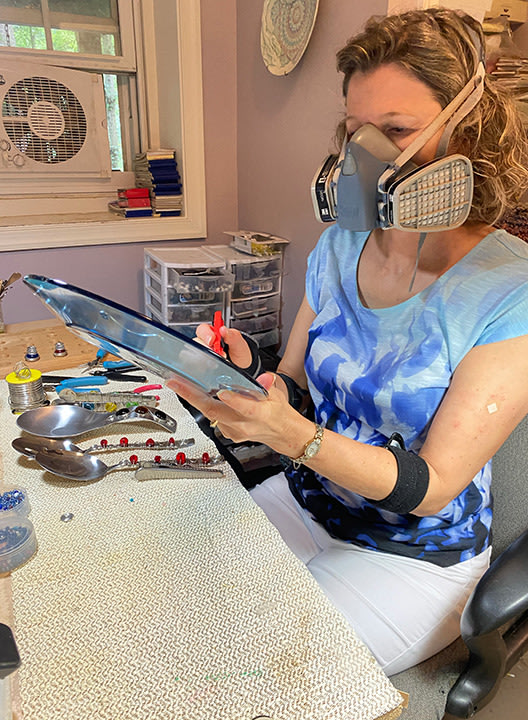 Photographer
Martha Brettschneider
The most powerful thing is to enjoy the practice -- you are playing in the world of form. ~ Eckhart Tolle
I'm the founder of Damselwings Photography. My work is inspired by my passion to facilitate mindful living, encouraging people to slow down, take a breath, ground yourself in the present moment, and notice the beauty in your midst.
My specialty is macro floral photography, which brings the tiniest details and subtlest forms of nature's creativity into full view. Shooting in the field, capturing the interplay of light and the life force of my subjects, brings an energy to the images that simultaneously calms the viewer while sparking a rejuvenating connection with nature (even while inside) and the present moment.
Come see my work at Art a la Carte Gallery in Occoquan, VA and visit my main website at damselwings.com.
.
Linda Condray
My thoughts and prayers to all affected by the Corona Virus Pandemic.
I have been working in glass since 1992 when I learned traditional stained glass techniques from a neighbor when we were stationed on the island of Guam. In 1996, I started my business, Walking on Broken Glass, to sell traditional and mosaic stained-glass garden ware. We moved to the DC area in 2008 when my husband was stationed at the Pentagon. Now we live in Woodbridge, VA,
I began to create 3-D orchids in fused glass panels and sold them at the Maryland Orchid Society show. Since then I have created many more Borosilicate flowers, bugs, fairies, and other garden ornaments.
Often I mount the glass-art on lava rocks, driftwood, and other artistic substrates. The sinuous roots of my plants follow the contours of the mounted piece. My panel pieces incorporate Italian soft glass flowers created on torch then fused onto a base glass to create a unique 3-D framed piece. I make my own picture frames to coordinate with each original glass-art piece.

An Artist at the Art a la Carte Gallery, I also display my work at art and craft shows in the Northern Virginia area. Periodically, I teach flame working at the Workhouse Lorton, VA "Glasshouse". Visit me at the Gallery and at
www.lindawalkingonbrokenglass.com
.
ITS A BEAUTIFUL DAY IN THE GALLERY

Kate Costello
— Art a la Carte Gallery Jeweler

Born and raised in a small farming community in western New York State, my Grandmother taught my sister and me to thread a needle at a young age. I learned to stitch in all manner of techniques. Together we shared our love of creating items to be used or adorned. Having a needle and thread in my hand is second nature. While my sister took to quilting I discovered beads.

I took a class on how to make beads with Faith Davis Ferris or my Quest II Studio. Honeoye Lake, NY. She enticed me with the flame. When I moved to Las Vegas, I discovered lapidary, wire wrapping, Art Clay Silver and Glass Fusing. I learn much from the internet and magazines. Inspired by different artists, I don't copy their artwork but add my twist.

When I relocated to Northern Virginia in 2009, one of the first things I did was join the Northern Bead Society where top artists present their latest creations and teach new techniques. Burke & Beads is my home for beads, classes and inspiration. I make my own beads and am always on the prowl for an eye-catching addition for one of my creations. e.g., an antique eyeball, cosmetic eyelashes, or other eclectic bit of bling. Adding all these elements to my creations makes them interesting and fun.

On a personal note, I am enjoying remodeling my home, working with my son in his business, outings with my grandchildren and creating jewelry that is truly one-of-a-kind piece. I am 60 plus years young and eventually I will retire... but not yet.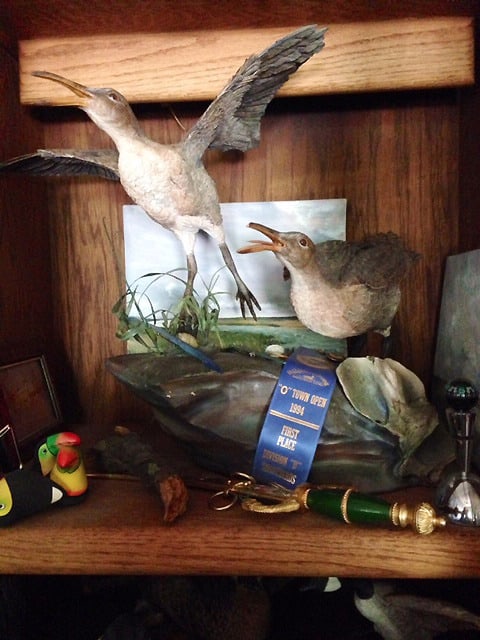 ART FOR LIFE

Ray Dumas

Art is a passion that occupies the mind and feeds the soul

Strong colors and shapes have enriched my life since infancy. As a child, we lived on a small island surrounded by white sand beaches and a turquoise Bahamian sea. The dank green growth of jungle plants, bright boats on the brilliant sea surface, and the exotic animals I encountered are my earliest memories. In the 1940's and 50's, I lived in a tiny New England town with my Grandparents who made furniture on their small farm. The vastness of the White Mountain National Forest just steps from our backdoor, my life and art influences are best described by John Denver's hit song," Thank God, I'm a Country Boy."
Wood stoves filled our home with warmth; however, I spent hours stacking and hauling cordwood While I learned the furniture business in my Grandfather's shop. After Prep School, I got the opportunity to work as a ship's welder with a crew of grizzled seamen on a freighter carrying road-building equipment up the Amazon River for the Trans Andes Highway.
As a young man, I honed my riding skills on dirt bikes, street bikes and powerful racing machines. Eventually the Viet Nam war beckoned. Back home finally, with a new BS degree, I landed a job teaching Biology in Massachusetts where the winters were long and the summers boring. While moonlighting as a motorcycle mechanic, I was approached with an offer of a buy-out. Soon thereafter, I opened my shop selling European Motocross machines.
My business was fast-paced much of the year but died in the winter. Bored, my science and woodworking mind latched onto wood carving and painting birds. My skills took me to the world of Wildlife Art Sculpture competitions on the Eastern Shore, MD competing for International prizes and Federal Duck Stamp awards (one of my carvings to the left). Finally I had realized my true calling as an Artist. Since then, I have created, almost exclusively, mixed media wall art. I am passionate about capturing a split second of movement in nature. My art is wrapped in bold color, but the shapes, shadows, and contours of moving animals are what ignite me – and I hope you too!
For the past 41 years, I have witnessed some pretty grisly sights. Working as a death investigator, I traveled around the world investigating cases. Specializing in forensic death scene investigations and cold case homicides, my job often required viewing through the lens of my camera – the absolute cruelty and heinous behavior of those individuals who wreaked the havoc you might have seen in the evening news or read about in your daily paper. Required by my job, the photographs I created are in my Agency's case files, and serve as a testament to the depravity of a killer, the destructive path of a bullet or the desperate struggle a victim endured in his or her all-out effort to elude death.

Before retiring in 2020, I worked on cold cases and for nine years headed the Forensics Division for the real NCIS. Also, I reviewed all the scripts for the television

programs and authored the best-selling textbook, "Death Investigators Handbook." I lectured extensively around the world on the forensics of death investigations. Some of my investigations have been featured in real live crime television documentaries such as Cold Case Files, The Real NCIS, Investigations Discovery, Unusual Suspects, 48 Hours and other programs. I am most proud to have assisted in the recovering of remains at the Pentagon during 911.

Through the years, my mechanism to cope and decompress from the brutal world in which I worked was photographing things that I wanted to remember and share with others. With a discerning eye honed by crime scene photography, I instead focused on the special beauty that still existed often just outside the crime tape. Many of my photos on this website are from areas that I visited while working those disturbing crime cases.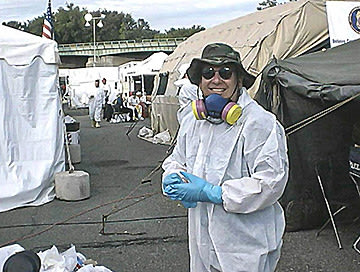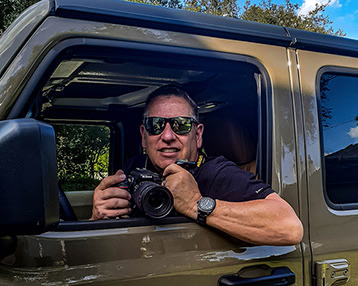 Carmen Griffitts

— How about a new piece of jewelry?

Originally from Germany, I started crafting as a child with different materials. As a young adult I immigrated to Virginia, USA. Through the years I expanded my work field and improved my skills. It became clear to me that jewelry-making is my passion and obsession. After 35 years of working as a certified dental assistant, I finally retired to pursue my love of creating unique and artful beaded jewelry.
I use the best quality materials I can find, e.g., Japanese Miyuki seed beads, Austrian Swarovski crystals, and incomparable Czech Republic beads. I design each original piece and hand-bead all my jewelry, taking hours and sometimes days. An Artist at the Gallery, I also teach my designs at local bead stores.

Hope you enjoy my work. There's always more to come…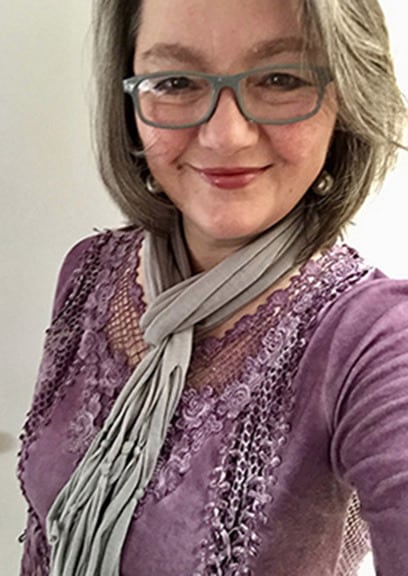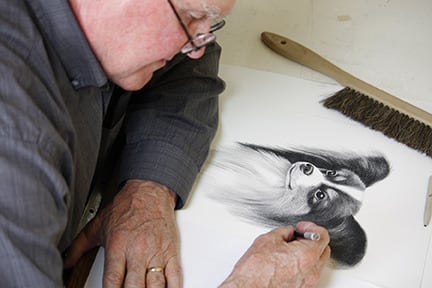 In 1992, I started a business, Wolf Run Studio, to market my drawings of Virginia historic buildings and regional wildlife. My business name is derived from Wolf Run, a stream which borders my property in Clifton, VA, a rural area located in Fairfax County about one hour from Washington, DC. My expansive portfolio now includes wildlife from around the world, university landmark buildings, national historic places, and popular pets. My detailed pencil drawings are faithfully reproduced on fine quality acid-free prints and notecards.

Inspiration for many of my wildlife drawings comes from the abundance of beautiful birds and animals that live near my natural backyard pond throughout the year. My wife and I also travel to zoos, wildlife areas and historic locations to take photographs for reference and gather information. Well-traveled friends and relatives also contribute personal photographs to use as the basis for new drawings.

I am a long-time member of The Northern Virginia Handcrafters Guild and exhibited my work at juried art and craft shows throughout Virginia until 2011. I was a member of the Art a la Carte Gallery for several years but retired this year.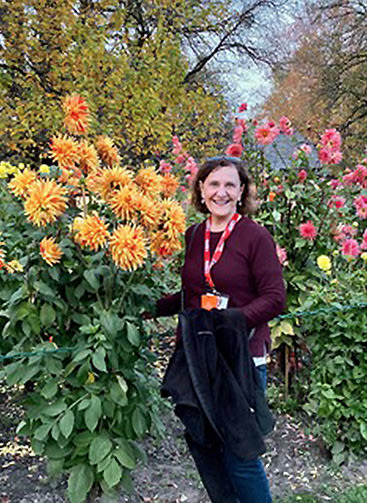 I joined the Art a la Carte Gallery in March of this year. Originally from the Pittsburgh Area, I began my love of pottery while attending Indiana University of Pennsylvania. After teaching art from over 30 years, I was happy to get back into pottery after I retired.
Experimenting with different glaze combinations keeps me excited to find something new each time. You will notice my pottery has a range of different colors. All my glazes are food, oven, and dishwasher safe. My pottery can also go from freezer to oven, if placed in a cool oven then brought up to temperature. At this time, my pottery is only available in our Occoquan, VA gallery at 310 Mill Street.
I currently live in Clifton, VA with my daughter and her family and I enjoy spending time with my two grandchildren. I'm looking forward to you coming into the gallery to see more of my work.
February Featured Artist Reception at The Art a la Carte

Whether painting from photographs, life, or my "mind's eye", I try to portray a sense of literal realism. I paint on canvas and stretched linen in both oils and acrylics. I also offer private lessons and will paint something for you on commission.
Born in Bessemer, Alabama, I've lived and traveled extensively throughout the United States. I received a BS in Secondary Education from the University of Nebraska, Omaha and taught history, psychology and humanities at nearby Mercy High. I moved to Northern Virginia in 1977 and had a 31-year career as a Department of Defense contractor and Aerospace Systems Engineer. I now live in Manassas,, VA.
Although I studied art in college and had instruction in drawing, acrylics, and oils, I am mostly self-taught. I enjoy the creative process of art, the challenge of mixing color, mastering the flow of paint from a brush, and the resulting surprises that appear on my canvas.After retirement in 2014, I began painting again and now am pursuing a full-time career as an artist. A long-held dream at last realized, I joined the Art a la Carte Gallery in 2019 and began showing and selling my artwork.
Until recently, the town of Occoquan, VA held large Spring and Fall art shows and other events. The gallery also hosts Featured Artist Receptions.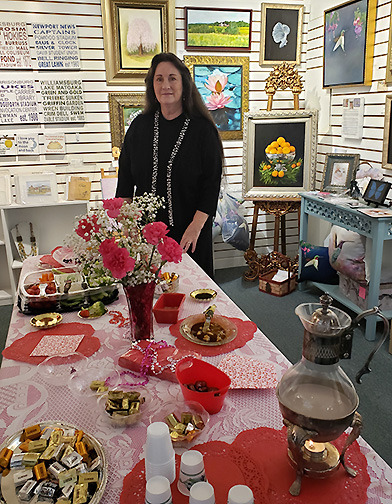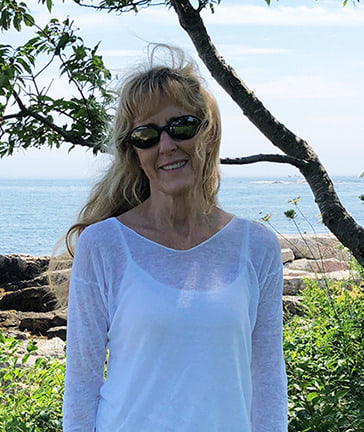 My artwork is focused in a visual language that is both psychological and personal. My images are universal and can be interpreted in meaningful ways to each viewer's own life stories. My layered images are an attempt to better understand the intricacies of how to get through my life with understanding and self acceptance.
Through my art, I explore personal and mythic stories using symbolic imagery. Much of my imagery is inspired by classical legends that cross time and cultural barriers. I relate to these ancient myths as I ponder life today and try to interpret my own story. The title of each piece identifies the story upon which it is based.

I begin a new piece by painting a face with oils. The face is not meant to be anyone in particular, although it is always supposed to be beautiful. Once the paint is dry, I apply other images (which are printed on tissue paper) to the oil painting with a medium that makes the paper transparent. Sometimes I apply only one layer; at other times there could be a hundred layers.
I have a BS degree in Fine Arts from the University of West Florida and an MS degree in Information Sciences from the Virginia Commonwealth University. After receiving my Teacher's Certification from the University of Texas at Austin, I taught Middle School art for the next six years.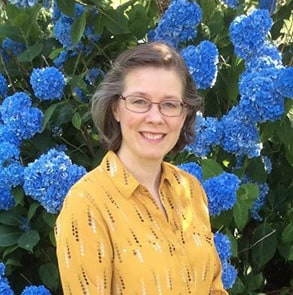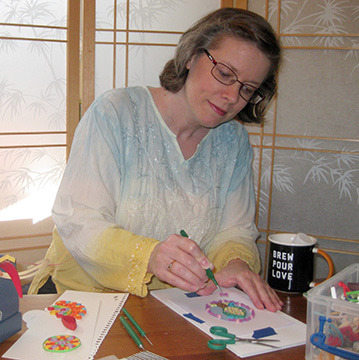 I have a whimsical way of viewing the world, which finds its way into my artwork. An excellent storyteller, I enjoy sharing my images in paper, whether they are of complex tales or simple thoughts. I am a cut paper artist.

In teaching, I have always felt honored to share art with my many students In turn, we learn from our experiences together. Passing on the love of art is integral to art itself.

I'm an Art a la Carte artist. Perhaps one day soon you can browse our gallery in Occoquan, Virginia and see one of my demonstrations, or take one of my classes. Maybe you too will relax with the ancient art of cut paper.

As long I can remember, art has been my passion. I sought ways to develop my skills through art school, employment, and relevant pursuits such as blacksmithing, welding, metal fabrication, and harvesting green wood. My hand-forged tools comprise 50-60% of my unique turning tools. Over 60% of the timber I use has been harvested personally and cured for use from local clearing and storm damage. I find the beauty of our native wood to be unmatched. I consider it a privilege to reveal and enhance these native treasures in my work.

Wood-turning has become the vehicle that drives and carries my artistic expression. I commonly incorporate Ancient imagery, geometric design and texture, through pyrography, carving, painting and other techniques. While focusing on drawing and printmaking in the 1980's and early 90's, I numbered my works and series. Today I keep the tradition, numbering and dating all my work within a series so admirers and patrons can follow my growth and journey. When asked what do I like best in my art, I answer, "all of it" – the entire creative process.

John: I love working with hard woods, their smell, solid heft, and silky finish.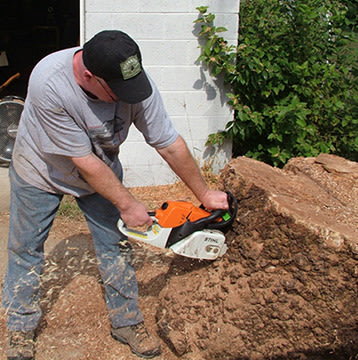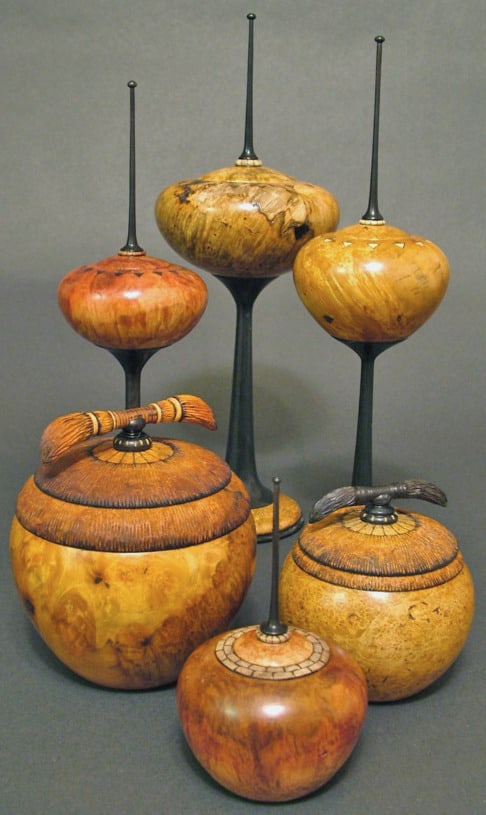 I grew up in Clifton, VA, surrounded by woods and a stream running through our backyard. From a young age, I was raised to appreciate the beauty of all living things. I graduated from the University of Mary Washington, VA with a degree in studio art. While a student, I honed my craft, experimenting on many different media (e.g., printmaking, painting, ceramics). I found each medium had its benefits and limitations).
My artwork reflects a love of wildlife and is influenced by the symbolism of animals in different cultures. My animals have personality as I try to depict human emotion through the lens of my non-human subjects. My art is especially for young ones and the young at heart. My focus is mainly in Printmaking, but I also work with both Watercolor and Acrylic paint. For those who are unfamiliar with Printmaking, it is the process of transferring an image from a surface to a substrate, usually paper or fabric. I use two techniques for making prints, silkscreen printing and relief printing.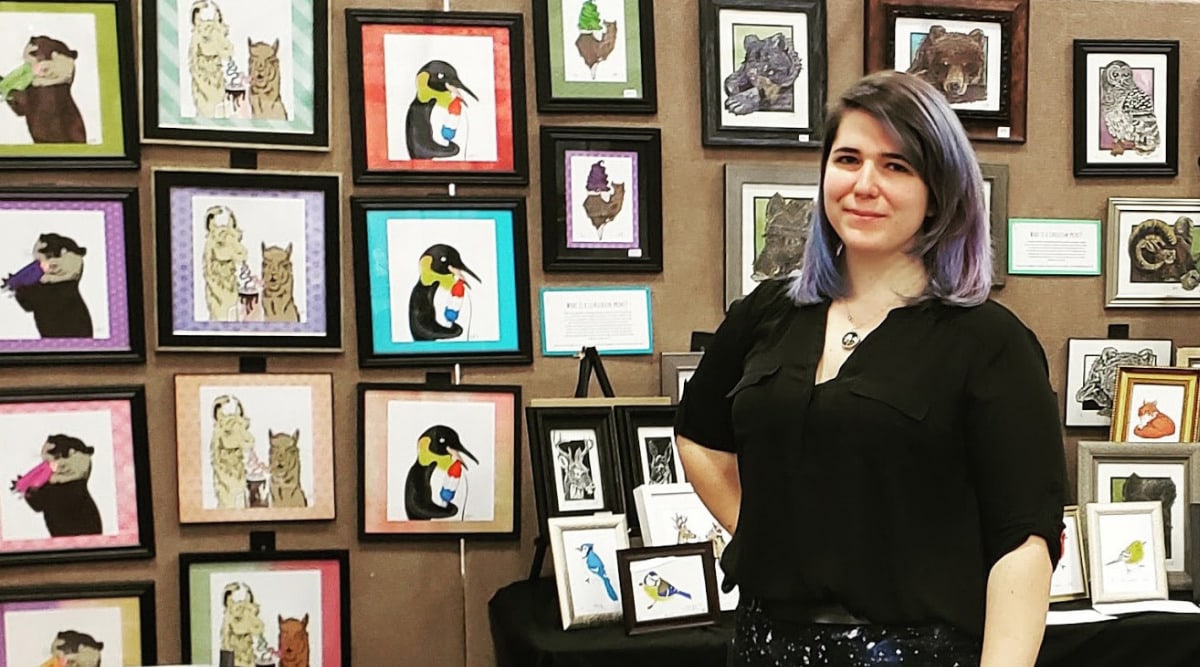 Silkscreen printing is similar to making a stencil. I separate the different colors of my design into different layers, then transfer it to a silk screen, where I press ink through the screen and onto the substrate with a squeegee. Each color requires its own layer, so the more complex the design, the more layers are required for the final product.

Relief printing is similar to making a stamp. Using a special tool called a gouge, I carve out the negative spaces of my design into a block of linoleum or wood, and print it onto the substrate with black ink. I often like to finish my prints with watercolor to give them a life of their own.
I am happiest when bringing my imagination to life in my studio with whatever inspires me in the moment. I am repeatedly drawn to vintage and time-worn items and thrill at the hunt for materials in flea markets, antique shops, thrift stores, and garage sales.

I particularly love using doll parts and wings in my work. Rarely do I start a project with a particular design in mind. Instead, my approach is organic and primarily spontaneous. A new project often begins with rummaging through my studio for inspiration. Fun happens as I play with various ideas, adding and rearranging materials while thinking through any construction challenges. The final assemblage invites the viewer to consider everyday objects with a new perspective and hopefully results in a smile.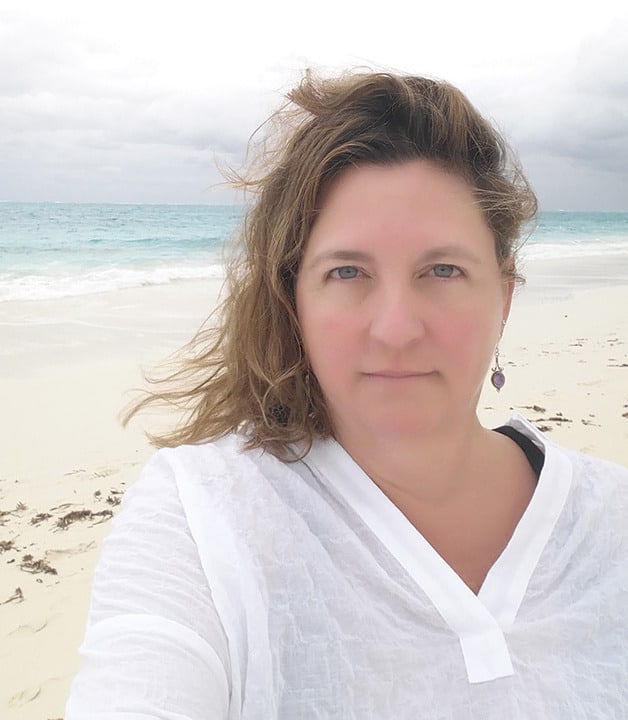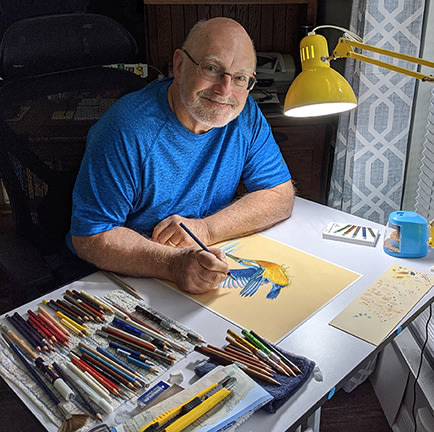 There is much to spark imagination
Mere weeks after my birth in Sydney, Australia in 1948, my parents moved us to Lae, Papua New Guinea (an island north of Australia). I spent the next 4-5 years growing up in the tropics while my father, along with one of my uncles and a few other mates, established an air charter business flying DC-3s in and out of isolated mountain areas. In the early 50s the family relocated to Sydney when my father was asked to join QANTAS (Australia's flagship) as a ground engineer.
I immigrated to the United States in 1999 after marrying Trish whom I met on the Internet when online dating was in its infancy. I continued my 30+ year career as a graphic designer in the publishing industry and, as soon as I could, five years later was sworn in as an American Citizen.

Trish and I retired in 2016 from our respective jobs, sold our North Idaho home, and after a little more than two years touring the US in our 40-ft 5th wheel, we sauntered into the Art a la Carte Gallery VA within minutes after Bill Harrah. Bill and I juried that day and both were accepted. I, however, several weeks later headed south for a vacation, stopped in The Villages, FL, fell in love with the life style, and settled there.

I have continued my interest in drawing and managed to develop a growing list for commissioned portraits of animals and people. I even managed to squirrel away enough time to devote to fine art, and began to fill a portfolio of work. Although I have worked with oils, acrylics, watercolor, inks, and pastels ... I always return to my favorite — colored pencil.
.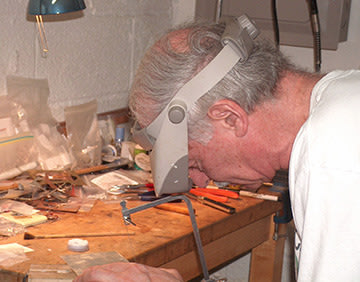 Howard Stelzer
" ART is good for the soul and LAUGHTER is the best medecine."

I am a Metalsmith. All my jewelry is handcrafted from start to finish in my Northern VA home studio. An Artist at the Art a la Carte Gallery, I am also a long-standing member and past officer of the Northern Virginia Handcrafters' Guild. Over the years, I have refined my craft, taking workshops with distinguished artisans. Locally, my work has been displayed at enumerable art and craft shows, the Strathmore Hall and the Torpedo Factory.
I craft my jewelry from a variety of metals, including gold, silver copper, and brass. Occasionally, I solder two or more metals together in the same piece. Much of my jewelry incorporates semiprecious stones. Often the creative process begins with an eye-catching stone that captures my imagination. It's singular shape, texture and color deserve to be enhanced by a unique and original setting. It takes a variety of skills to finish a piece like this for my collectors, including soldering, forging, piercing, burning, coloring with other media, and more.

In addition to each of my pieces being uniquely my vision, I also view them as statements for my clients. When they're complemented on something that I created, I want to believe they feel "a little happier that they're wearing something of mine that truly stands out."
Making art has been important to me since early childhood. I began making prints at the age of twelve after I saw my first relief print that my parents had done on muslin. They were reusing curtains with botanical prints that my dad had created. Already proficient with relief prints and etchings, I majored in printmaking for my Bachelor of Arts degree.

My art takes many shapes and materials, but I always return to printmaking. I came to love making prints before photocopies became so realistic. They allow me to share
my vision yet keep a favorite print.

All art fascinates me. I've worked in many media, (photography, fiber art, ceramics, sculpture, ) and draw every day, honing my artistic view of the world. My images seek an inner peace whether Animals, Landscapes or Architecture, and are derived from my own photographs or sketches. My work reflects where I am. I have prints of California, Massachusetts, Germany, and Virginia. Art for me is the act of creating, whatever your media. Visit sometime. perhaps I can show you how to print.
Katherine: Come see one of my demonstrations at the Art a la Carte Gallery.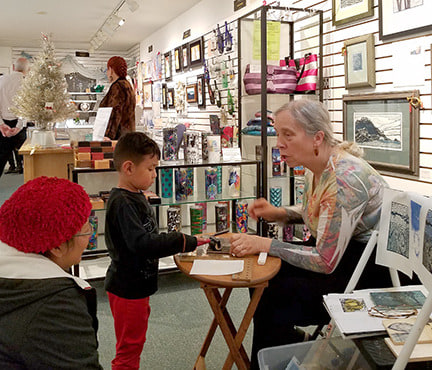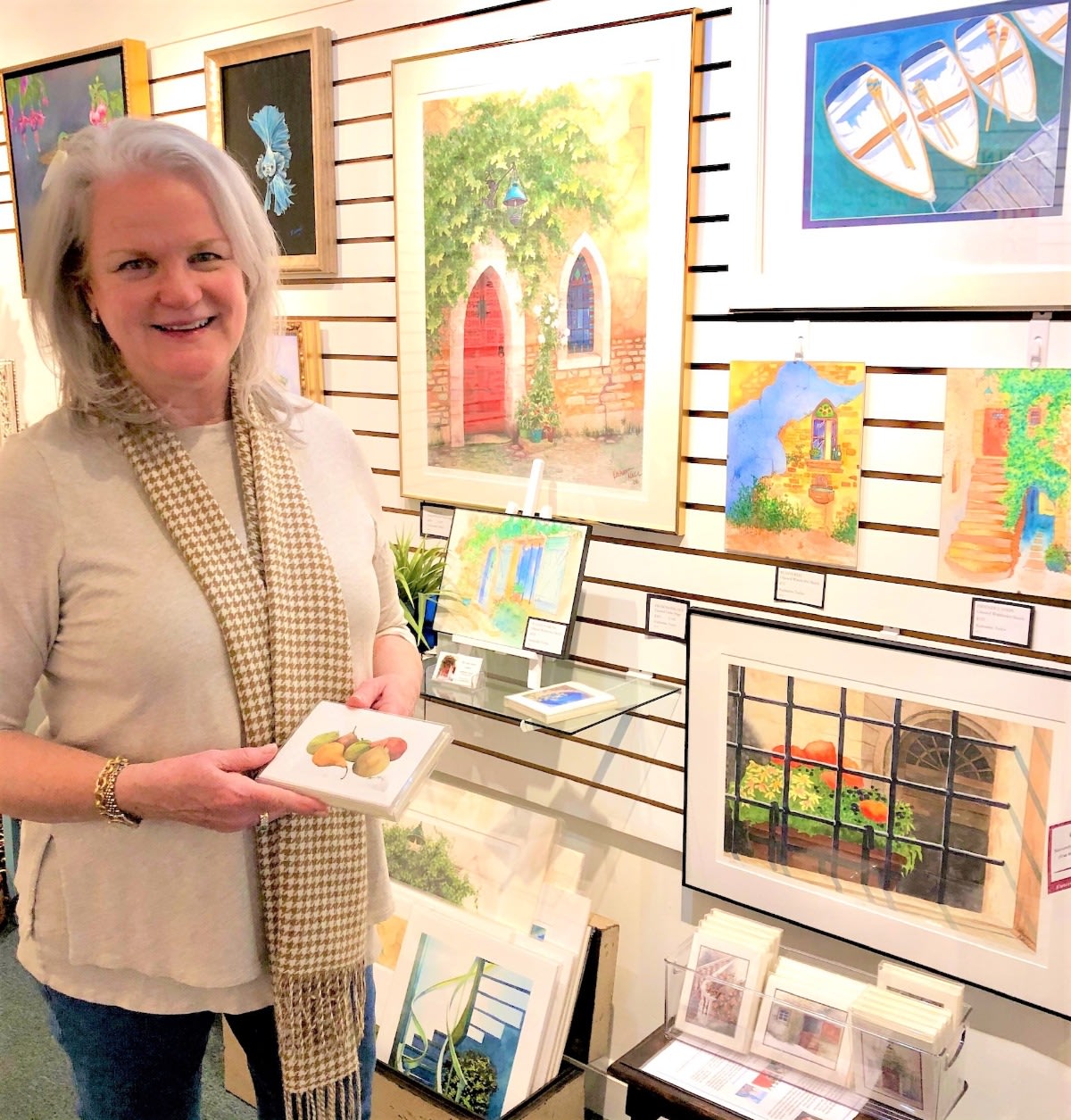 Katharine Taylor
A Virginia native, gemologist, appraiser and watercolorist, I try to use both sides of my brain while keeping a sense of humor. New to the Art a la Carte Gallery, I hope to make it my home away from home. If you can, come and see my work.

I am attracted to architectural elements of old buildings and find them more interesting as they weather with age..... cracked and patched plaster, mossy green stones and splintered wood tell the story of the structure especially through its doorways and windows. It brings a sense of familiarity and comfort to me and I want others to feel that breathtaking feeling of déja vu.
Everyone sees something different in art, l enjoy hearing your thoughts and reactions to what I bring to the table. You can also find me on Instagram @katharine.taylor.watercolors or my personal site thecolorgallerie.com ...... or happily in my home studio! 
I was born and raised on Long Island, New York. I graduated from Stony Brook University with a B.A. degree in Early Infant-Elementary Education and a minor in Fine Art. After raising three great sons and having a career as an International Board Certified Lactation Consultant, I retired in 2013. Once again I picked up my paint brush!
My art goal is to capture the energy, color vibrancy and movement of contemporary works. I want to share with you my inner passion for landscapes, seascapes, floral arrangements and animals. I'm considered an Abstract Expressionist who paints mostly with alcohol-based inks on ceramic tile and Yupo™ paper. For variety and greater impact, I might add acrylic paints and mixed media.
Come visit us at the Art a la Carte in Occoquan, VA and you might see me demonstrating inside the gallery or on the porch if the weather's nice. Sign up for one of my classes and I'll show you how to relax and be creative.

Demonstrating alcohol painting on the Gallery's front porch